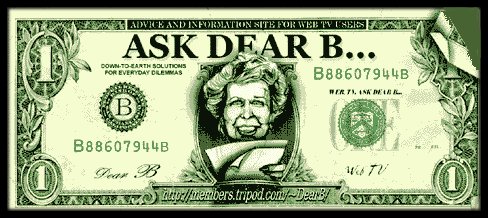 A dollar bill is thought to bring good luck in Argentina, the home of artist and logo creator Frankie DeLeon. This logo represents a wish for good luck to all who visit here.
Welcome to Ask Dear B, the advice site, for WebTV users, in the same spirit as 'Dear Abby/Ann Landers,' that features down-to-earth solutions for everyday dilemmas.
[This site is not affiliated with WebTV Networks Incorporated or the Dear Abby/Ann Landers
Official Sites.]
If you need help with a relationship at home, work, school or on the web, just ask Dear B...
If you have a question or a problem of any kind, just ask Dear B...
If you want to express feelings about any subject, or share a funny story,
just tell Dear B...
[ All information submitted will
remain confidential.]

Submit A Question here,
or click on 'Email Dear B' on the signpost for a personal reply.